Overview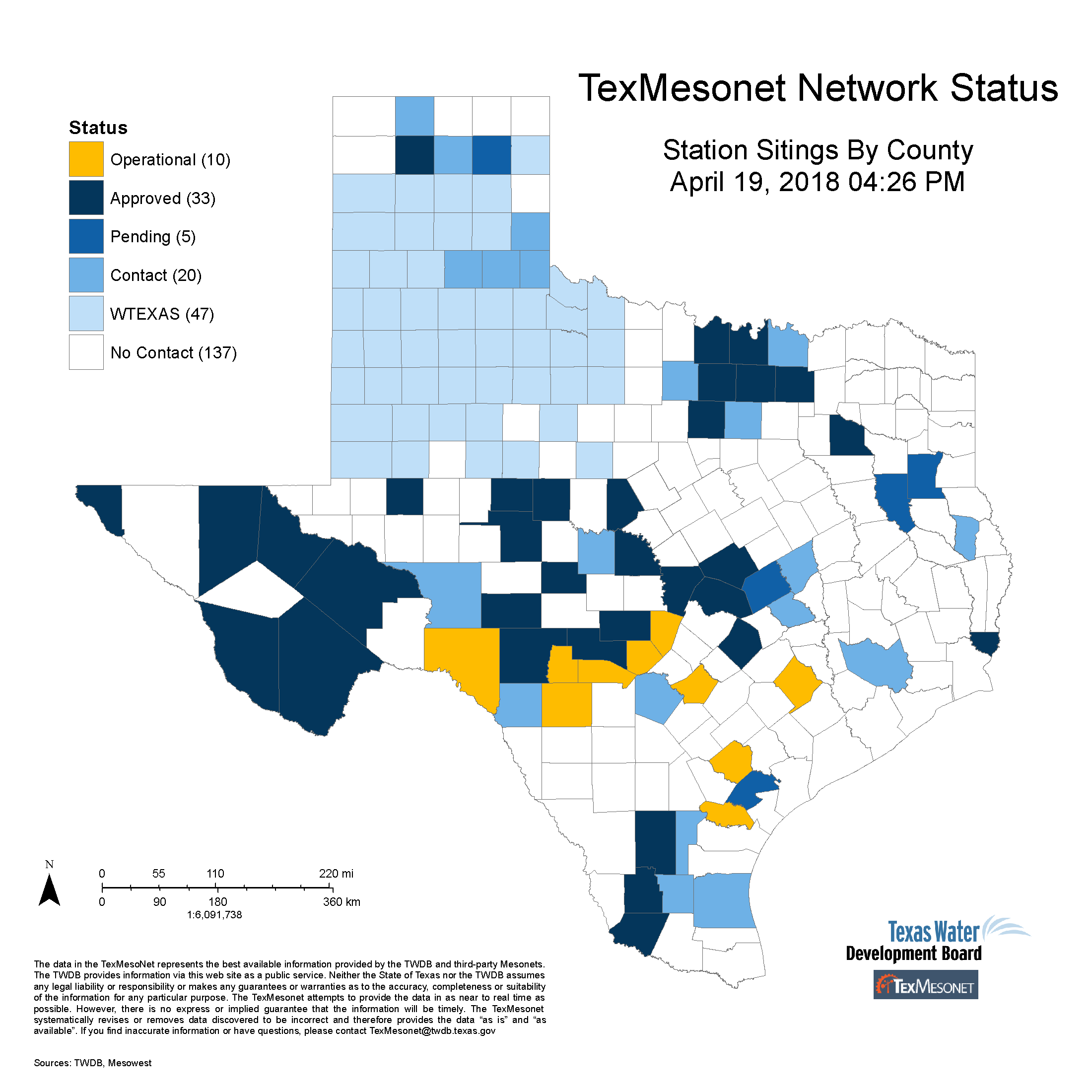 Texas Water Development Board is partnering with other entities such as the Guadalupe Blanco River Authority, the Lower Colorado River Authority, and the Edwards Aquifer Authority to develop a statewide earth observation data collection network called TexMesonet. A primary goal is to create a unified virtual network of high quality data to support flood monitoring and flood forecasting efforts by the National Weather Service, regional river authorities, and local emergency responders. The network will also be useful in monitoring and responding to drought and wildfires and in providing information to use water more efficiently for urban and rural irrigation. Information collected will include temperature, precipitation, wind speed, relative humidity, barometric pressure, solar radiation, soil moisture, soil temperature, and evapotranspiration. New parameters may be added in the future to help all Texans monitor, understand, and use these measurements for safety purposes, planning, and other relevant benefits.
Texas Water Development Board installed the initial five stations of the network in Blanco and Kendall counties in May 2016 and intends to continue installing stations over the next several years. We designed this viewer to be expandable so we can develop new and interesting applications to help Texans see and respond to changing weather situations and plan for the future.
Currently in Texas numerous local and regional weather monitoring systems are maintained by the National Weather Service/Federal Aviation Administration, the National Forest Service, Texas Tech, and the Lower Colorado River Authority. Additionally, the MesoWest and SynopticLabs Mesonet API, aggregates meteorological observations from many sources, including several buoy sites in the Gulf of Mexico. Many of these are citizen-cooperator sites or special-purpose networks measuring only one or two parameters, though several hundred locations provide fairly complete meteorological observations. These sites are also included in the TexMesonet Viewer.
Frequently Asked Questions
What is a mesonet?
A mesonet is a network of weather stations spaced close enough to each other to observe and track meso-scale weather events, such as individual super-cell thunderstorms. Mesonet systems typically collect data on atmospheric conditions, solar energy, soil moisture, and soil temperature. Mesonet data is used for weather forecasting, alternative energy development, agriculture, and for fire, flood, and freeze warnings.
How many stations are currently in the TexMesonet?
Currently, there are 3000 stations displayed in the TexMesonet viewer.
How many stations are designed, built, and maintained by the Texas Water Development Board?
Currently 26; plans are to expand yearly.
When did the Texmesonet start?
May 2016.
What is being measured?
All TWDB weather stations will measure rainfall, temperature, soil moisture, and soil temperature. Some stations will also monitor atmospheric pressure, wind speed and directions, gusts, relative humidity, and solar radiation. Other provider network stations may or may not contain all sensors.
Who provides the data from the stations that are not owned and maintained by the Texas Water Development Board?
The TexMesonet pulls data from MesoWest and Synoptic Labs APIs at synopticlabs.org, which in turn hosts data from stations operated by the National Weather Service, the U.S. Forest Service, and the West Texas Mesonet, and the Lower Colorado River Authority. We also get data from other partners, including several river authorities and groundwater districts. Other locations will be added in the future.
How often are the measurements updated on the website?
The site is updated every 15 minutes. The data for each station may have a different update schedule depending on the station.
If I want to download data for several stations, how can I do that?
Currently, users have the capability of selecting and downloading near real time data directly from the viewer. Historic data downloading functionality is being developed for the application.
How far back do these data go?
The period of record is different for each station and new sites are being added.
How do I request a custom data download?
Contact the TWDB at 512-936-0871 or email TexMesonet@twdb.texas.gov and request a custom data download.
If I have a comment or question about this website, who should I contact?
Contact the TWDB at 512-936-0871
Data Info
Data Displayed and Graphed?
Data for the TexMesonet viewer is read and refreshed every 15 minutes. Both current condition information and charted data is based on the most recent reads. The majority of the displayed stations and gages report consistently at a 15 minute interval. However, not all stations and gages maintain that consistency or 15 minute interval, therefore the date and time of the read is displayed in the Current Conditions tab for clarity. The Graphs tab displays the last 24 hours from the current time that the user clicks on a station. Graphs will only display if data is available. Weather graphs include:
The last 24, 48, and 72 hours of precipitation with accumulation and temperature,
Temperature with dew point and humidity,
Barometric pressure,
Wind speed and direction,
Solar radiation,
Soil temperature and moisture.
Data Details:
Sea Level Pressure
Barometric pressure in millibars (mb)
Heat Index
Shown if temperature is > 80°F
Humidity
Relative Humidity as a percent of 100
24 Hr. Precipitation
Cumulative rainfall over last 24 hours in inches
Precipitation
Precipitation in inches from rain gage
Temperature
Air temperature in degrees Fahrenheit
Wind Chill
Shown if temperature is < 50°F
Wind Direction
Wind direction in compass degrees
Wind Gust
Wind gust speed in miles per hour
Wind Speed
Wind speed in miles per hour
Soil Temperature
Soil Temperature in Fahrenheit measured at 5 cm, 10cm, 20 cm, and 50 cm depths
Soil Moisture
Percentage volume of water to volume of soil (i.e. volumetric soil moisture) measured at 5cm, 10cm, 20cm, and 50cm depths
Water Level
Water level in feet below ground. (For well sites)
Water Temperature
Water temperature of water below ground. (For well sites)
Data Sources:
Weather station information is collected from TWDB stations and gages and a selection of MesoWest and Synoptic Labs selected networks (https://synopticlabs.org). The MesoWest and Synoptic Labs stations displayed are filtered for the networks listed below:
COA
City of Austin
CRN
Climate Reference Network
EAA
Edwards Aquifer Authority
HADS
Hydrometerorological Automated Data System
HCFCD
Harris County Flood Control District
LCRA
Lower Colorado River Authority
MARITIME
Moored Buoys and CMAN
MEXICO
Servicio Meteorologico Nacional (Mexico)
NOS-NWLON
National Ocean Service
NOS-PORTS
National Ocean Service Physical Oceanographic Real-time System
NWS/FAA
National Weather Service / Federal Aviation Administration
RAWS
Interagency Remote Automatic Weather Stations
SCAN
Soil Climate Analysis Network
WTEXAS
West Texas Mesonet
TWDB
Texas Water Development Board
Data Quality Control
For TWDB stations and rain gages, TexMesonet performs instrument range checks. If a data value is out of normal range it is flagged and the station or gage is not displayed on the map until the data can be evaluated and verified.
The stations displayed from MesoWest and SynopticLabs have already passed through quality control methods which include both data value range validation and statistical checks. For more information about MesoWest and SynopticLabs QC practices visit the following page:
https://synopticlabs.org/api/mesonet/reference/#Accessing_data_checks_via_the_API
Weather Radar
TexMesonet displays the National Weather Service (NWS) Next-Generation Radar (NEXRAD) network of weather via services from Iowa State University of Science and Technology. For more information visit the Iowa Environmental Mesonet (IEM):
https://mesonet.agron.iastate.edu/GIS/radview.phtml
Affiliation List
Barton Springs Edwards Aquifer Conservation District
Brazos River Authority
Bureau of Economic Geology
Coke County Underground Water Conservation District
Colorado County Groundwater Conservation District
Goliad County Groundwater Conservation District
Guadalupe County Groundwater Conservation District
Harris County Flood Control District
Lower Colorado River Authority
PLance, helping with Plants!
Sutton County Underground Water Conservation District
Texas A&M University - Corpus Christi
Texas A&M University - Office of the State Climatologist
Texas Division of Emergency Management
Texas State Soil and Water Conservation Board
United States Department of Agriculture - Agricultural Research Service